Unicart can be used to integrate the MYOB Accountright software suites with selected ecommerce websites.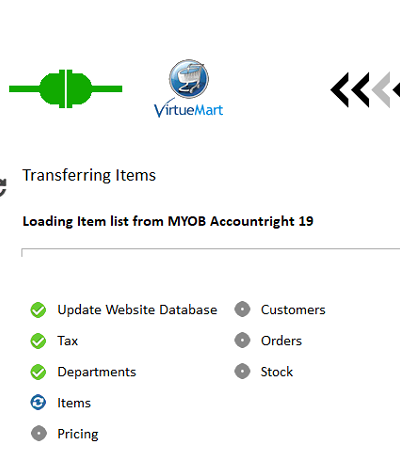 One of the biggest obstacles to businesses moving online is the time and expense in maintaining a website database, in particular, keeping product and pricing information up-to-date, while handling orders in a timely and accurate manner.

Unified System's Unicart makes the whole process much easier.  Clients simply maintain the product information in MYOB and Unicart updates the website to reflect new prices, group and quantity discounts, stock levels and more.

When customers register and orders are received, Unicart will automatically import those orders into MYOB and will even update stock levels to reflect the imported orders.
The Quickstart Guide can be found here.
Unicart supports the New Zealand and Australian versions of the MYOB Accountright Products.
Version 4 of Unicart contains a number of new features, including support for Woocommerce.
While we recommend all clients run Unicart version 4.x, you can still download the older versions Unicart from the download pages if you have an existing subscription for these products.
Unicart can run as a full 30 day trial, so why not give it a go?!
Change Log
Upgrading to Unicart 4.x
There have been many enhancements and bug fixes to the Unicart 4.x release. If you have a current support contract for Unicart then you can upgrade to Unicart 4.x at no additional cost. We STRONGLY recommend uninstalling Unicart 3.x and earlier and doing a clean install of Unicart 4.x. You will not lose any of your settings in doing this.
If you have an older version of Unicart and don't have a current support contract you can contact us for as 50% discount on a Unicart 4.x subscription here.  Even if you are running MYOB Accountright 19.x we recommend version 4.x for production environments.
Please note the following:
Downgrading from 4.x to previous versions is not possible.  
While Unicart 4.x+ should run on Windows 7/8, because these operating systems are end of life we do not recommend this in a production environment.
If you are running a version 1.x 2.x or 3.x versions of Unicart you must uninstall this prior to installing version 4.